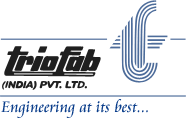 Products > Distillation Columns


Columns are mass transfer units generally used for the following applications
Distillation
Gas Absorption
Solvent Extraction
Packed Column etc.
Different types of columns generally manufactured
by us include
Bubble Cap Column
Sieve Tray type Column
Columns of various sizes (up to 5 mts dia * 50 mts height * 50 mm thk) have been manufactured by us. We manufacture columns of different capacities with complex internals like trays with TSR (Tray Support Rings) and bolting bars. We have manufactured and supplied these columns for major petrochemical, refinery and edible oil projects.