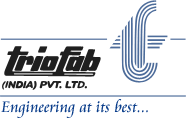 Fabrication Facility


Location

Our manufacturing unit is situated at Navi Mumbai, the gateway to the fast developing industrial belt of Maharashtra, India. Since the Kalamboli Steel Yard and J.N.P.T / Nava shiva Port is within near proximity, the procurement of raw-materials and shipment of final product becomes easy.

Fabrication Area

Heavy fabrication Shop (Bay - 1)

Medium Fabrication Shop (Bay-2)

Light Fabrication Shop (Bay-3)

Office Area

We have a full-fledged office duly well furnished and equipped with EPABX System, Xerox Machine, Fax Machine, Electronic Typewriter and Computers and Autocad and other necessary software for Design calculations. Different departments like Marketing, Design and Engineering, Estimation and Planning, Production and Execution, Inspection, Administration, Finance and EDP are conveniently accommodated section-wise at one place.

Office
For Execution - 240 Sq. M

List of Machinery

Plate Rolling Machine 35mm x 3000mm
Hydraulic Press 500 Tons & 100 Tons
Radial Drill (HMT - RM/63)
Radial Drill 50φ x 1800 (ENERGY)
Lathe Machine - 24" Center height x 20' Bed length x 25" width (UNITED)
Lathe Machine - 8" Center height x 6.5' Bed length x 35" width (OMEGA)
Shaping Machine 610mm stroke (DMK)
Hydraulic Power Hacksaw 400 f mm (OMEGA)
Welding Rectifiers 400 A (THRYISTOR)
Welding Rectifiers 600 A (THYRISTOR)
Tig welding machine - 400 A (MEMCO / ARCRAFT)
SAW Machine - 1200 A (ESAB)
Air plasma cutting - 75mm thk. (ARCRAFT)
Weighing machine platform type 1000 kg.
S.S. Chrome Plated Rolling Machine - 2500mm x 12mm thk.


Utilities


Electric Power
250 KV Transformer Water 24 Hrs.

Water
In house borewell facility with chloride content max. up to 10 ppm.

Air
Compressed air for pneumatic test and other services

Material Handling


EOT Crane
30 Ton capacity, 25 Ton capacity, 15 Ton capacity

Jib Cranes
5 Ton capacity - 5 Nos. 2 Ton capacity - 2 Nos.

Motorised Rotators
15 Ton capacity - 1 No 30 Ton capacity - 1 No, 40 Ton capacity - 1 No., 100 Ton capacity - 1 No. and
200 Ton capacity - 1 No.

Rotators
40 Ton -8 Nos. ( 4 Nos. -S. S. Lined ), 10 Ton -10 Nos. and ( Rubber Type ) 05 Ton -6 Nos.

Mobile crane
50 Ton - 24 hrs. Services (On contract basis)

Finance

The Federal Bank Limited Crawford Market Br anch, 92, Mimson House, Mumbai - 400003.

Installed capacity

1500 Ton per annum

Heavy Fabrication Shop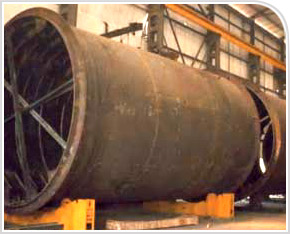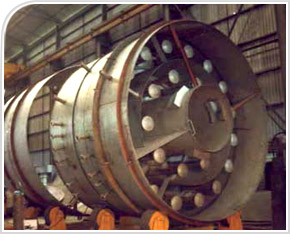 Material Handling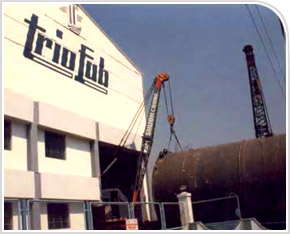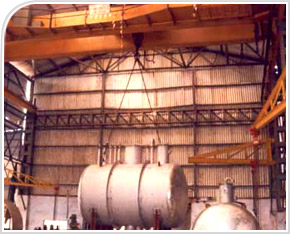 Heavy Fabrication Shop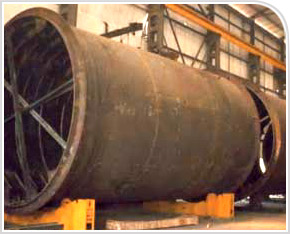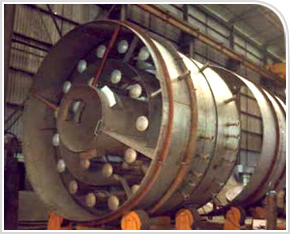 Material Handling