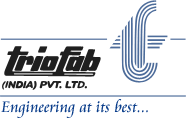 About Us > Organisation / Departments
Triofab is a professionally managed engineering and manufacturing company governed by highly qualified professionals. We are very proud of the fact that each and every depar tment of our s is headed by an individual who has outstanding experience in his or her field.

Our Team
Name
Qualification
Designation
Experience
Head of the Organisation
Mr. K. P. Johny
B.E. - Mech.
Chairman
47 Yrs.
Sales & Marketing
Mr. Francis John
B.E.- Prod.
Managing Director
16 Yrs.
Procurement
Mr. Jose Cherian
B.Sc.
Director
42 Yrs.
Engg, Insp & Prod.
Mr. Harosh John
M.S.(Chem), USA
Director
11 Yrs.
Marketing
Mr. Animesh Sen
B.E. - Mech.
General Manager
39 Yrs.
Process Design
Mr. K.B. Punjabi
B.Chem (UDCT)
Manager
25 Yrs.
Engg., Estm. & Drg.
Mr. S. Y. Samant
DME - Mech
Manager
36 Yrs.
Production Execution
Mr. J. N. Aswani
B.E. - Mech.
Manager
29 Yrs
Quality Control
Mr. Jacob Abraham
B.E. - Prod.
Manager
25 Yrs.
Production Planning
Mr. Shivaraj Bhosle
B.E. - Mech.
Manager
17 Yrs.
Administration
Mr. R. Warrier
B.A.
Manager
29 Yrs.
Stores & Inventory
Mr. G. G. Pawar
B.Com.
Stores In-charge
34 Yrs.
Accounts Department
Mrs. Jayashri Surve
B.Com.
Accountant
11 Yrs.
ISO Department
Mrs. Rekha Maltesh
B.Com, LLB
Additional M.R
17 Yrs.
Others
Engineers & Technical Staff
20 Nos
Skilled Unskilled
150 Nos

Organisation Chart


Departments


Design, Engineering & Drawing
We have a strong Engineering team equipped with up to date Codes and Standards along with latest Softwares for the Mechanical Design of Heat Exchangers, Pressure Vessels and columns. The Engineering drawings are prepared by our experienced Engineers / Dr aftsmen who are well conversant with all latest versions of Autocad. We also design special duty/custom built machines and systems as per the specifications and process requirements.
List of Software Used

Codes and Standards followed

Software
Application

PV Elite, Codec Software for
Process Equipments
Mechanical design of Pressure Vessels, Heat Exchangers etc.
Aspen Plus
Thermal Design of Heat Exchangers and simulation of other Unit operations
Autocad
Latest computer sided Design and Drafting.
Ansyis
Finite Element Analysis & Fatigue

ASME Sec.I & Sec.VIII Div.1,2 & 3
TEMA / EJMA
API
BS
DIN
IS

Procurement
Our procurement department has identified and short-listed the suppliers / Vendors approved by the Engineering Consultants / Surveyors for raw materials & bought-out items. Prior to procurement we take approval of our Vendor List from the client and the concerned Engineering Consultants. The procurement is made considering the factors of Quality, cost and delivery and on basis of our periodic Vendor Rating.

Production & Planning
Our manufacturing department is systematically and professionally managed with a well experienced team of technical personnel. Our Works Manager ensures production targets are met. Works Manager is assisted by Production Planning Department which works out the production schedules using tools such as barcharts, PMR etc. Every care is taken to ensure that quality and delivery terms are met. We maintain excellent relations with our labour.

Materials Handled
All Grades of Carbon Steel
Stainless Steel
Low Alloy Steel
High Alloy Steel
Monel
Ni Alloy
Cupro Nikel
Duplex

Quality Control and Testing
Our facility is ASME U-Stamp certified and our Quality control Department headed by Quality Control Manager is responsible for ensuring the quality of raw materials, workmanship and testing used during manufacturing as per Code requirements. All the raw materials are identified and check tested to ensure the quality of the materials. Our Engineers are on vigilance during every stage of manufacturing. Each and every equipment is tested and inspected before shipment.

Site Work / Erection and Commissioning / Repair
Our erection team takes care of the erection of the equipment at site and will commission and hand over the same to the clients. Any repairs / Alterations to equipments at Site are done in accordance with the National Board Inspection Code.